We are the manufacturers of food processing machinery - Grinding Mill, in which grinding media is Flour Mills which is exclusively manufactured by Natural materials with oxychloride process. Our Flour mill machine is good for health and easier in grinding.The used stones in flour mills are hard and have good wearing qualities, which means less wear and thus a long life. With this particular grinding media our food machinery is better than the one made of iron grinders. To us flour is not only a question of production, but also a question of nutrition. Flour ground on stone mills contains all the natural vitamins, minerals and ballast substances and may without any further processing be used for baking.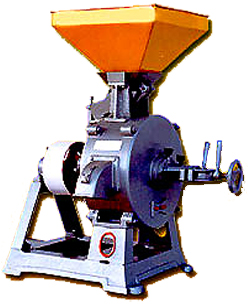 DANISH TYPE FLOUR MILL

We are one of the leading manufacturers and suppliers of Danish Type Flour Mills. The offered flour mill is specially designed for obtaining flour from the wheat grains. Our supplied flour mill is equipped with an electric motor, for moving the grinding parts. The manufactured flour mill is available in multiple variants of a range of horse powers and rotation per unit time. Our supplied flour mill is capable of continuous production for long time durations.We supply our wide range of Horizontal Grinding Mills to numerous industries for grinding wheat, corn, spices, teff, sorghum and millet.The capacities depend on various factors like the moisture content, the quality and the hardness of the grains and may vary a lot.